Local Church Women's Ministries happenings
Kansas City Chapel Oaks Church Hosts "Love You Forever"
The Mentor Moms of the Chapel Oaks MOPS/MOMSnext group plan a special evening each year for our moms," shares Reba Lucky. "This year it was entitled, 'Love You Forever' and began with a meal of finger foods. Following our meal we watched a video of the book, 'Love You Forever,' with discussion following. Each lady was given a beautiful long-stemmed red rose and we moved to the sanctuary. The Mentor Moms each had a powerful reading. The first question was, 'Why isn't Christ's robe white?' Each reading exemplified the wonderful love that Christ has for us by coming to this earth and submitting to death of the cross. Anne Wham was the first to lay her rose on the ground as the words, 'Trampled like a rose' were being sung by Lisa Hickman. Each lady followed, reverently placing her rose at the foot of the cross before stepping on it. It was an extremely moving depiction of the supreme love that Christ has for us. Finally, an invitation was etended for our moms to participate with us in the Jesus 101 Bible Study entitled, 'Indestructible Love.' Upon leaving each lady received a ribbon rose and a card with Bible verse stating 'Like a rose, she will blossom and burst into bloom,'" says Reba.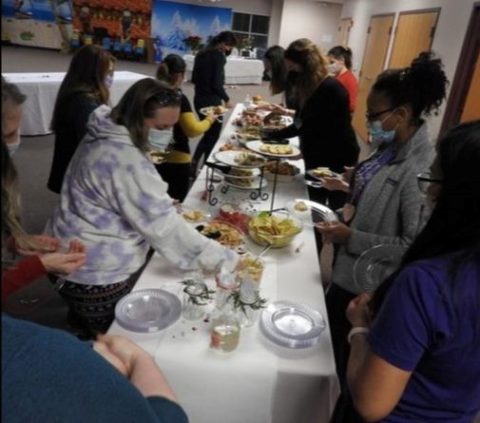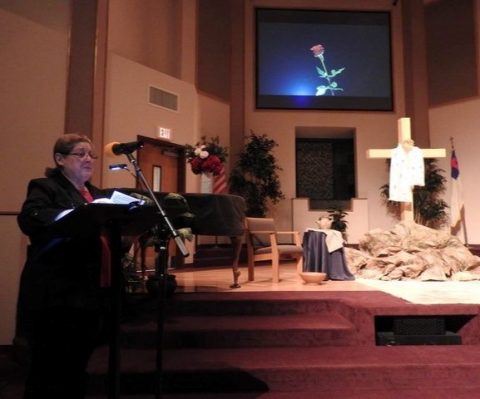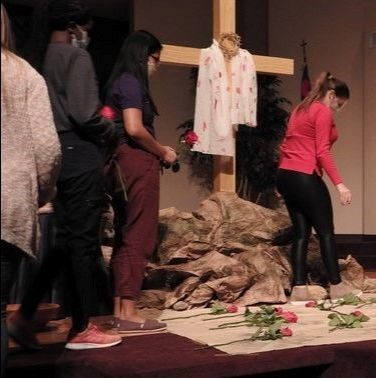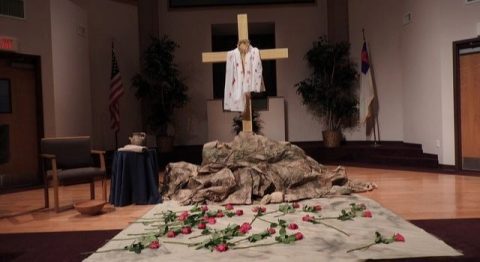 Garden City, Kansas
Juliet Santos and her husband, Mel, (VP for Administration) travel a couple of times each month to present Discipleship Training to the churches in our Conference who request it. She is such a blessing to the churches as she presents right along with her husband as they share Discipleship training seminars on Friday nights and Sabbaths teaching church members how to follow Jesus and share their faith.
Mel & Juliet Santos / Emily & Ryan Watson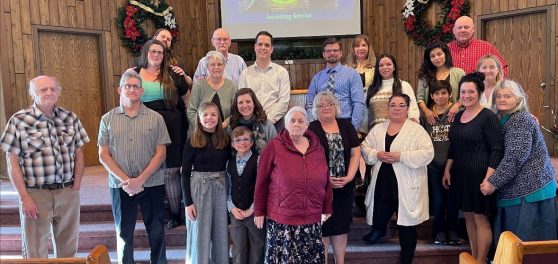 Garden City, Kansas Discipleship Training Attendees
Lincoln Piedmont Park Church
One Sabbath afternoon a small group of members and guests of the Themes of Hope Sabbath School gathered in Piedmont's Fellowship Hall for a Birthday Cake Packing Event. During the event they followed current public health recommendations for Covid safety as they packed 48 Birthday Kits to give to the People's City Mission Help Center in Lincoln. Each kit was placed inside of a foil pan and contained a boxed cake mix, a can of frosting, birthday candles, a small set of matches, a birthday card, a Scripture card and a note from our class. The kits will provide the opportunity for recipients to have a more traditional birthday celebration with their families or others they love. Additional supplies necessary for baking a cake (eggs, oil) are accessible from other resources like food pantries, etc. The Themes of Hope Sabbath School is excited to provide these kits, and we look forward to more packing events in the future!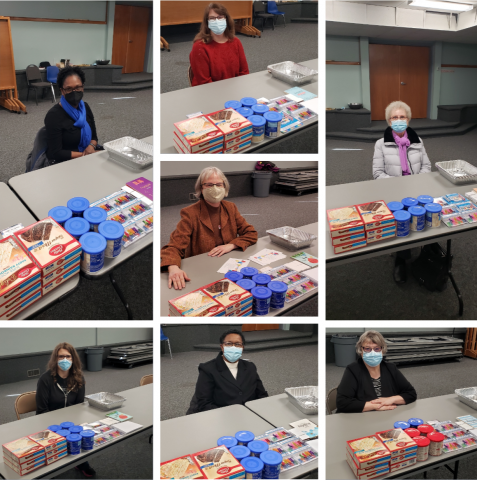 Enterprise, Kansas Church
One Sabbath each month the Enterprise, Kansas Church serves a free lunch to their community! "We had several come out and enjoy the food, despite chilly temps! We enjoy serving our community in this way," says Lisa Jahn.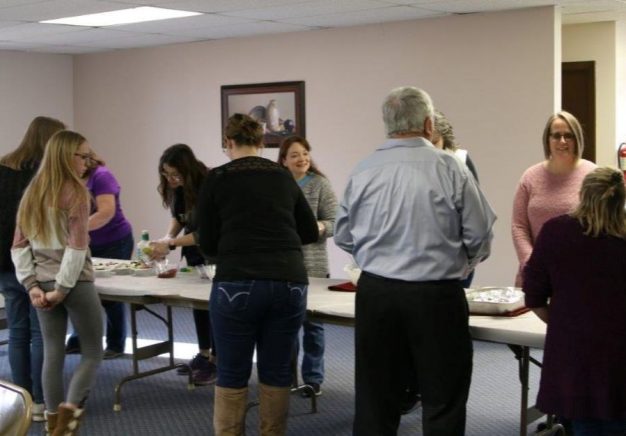 New Haven Church - Overland Park, Kansas
"The Hope Bus is a mobile food pantry to help people in the Kansas City area. It is an expansion of the drive-through food pantry the New Haven Church provides for their community from their parking lot each Tuesday morning. Karen Whitson is the director of this program. They are working now to get the interior of the bus set up with a system of straps so they can secure carts and food.  Major donations for the new "Hope Bus" came from AdventHealth and the North American Division. New Haven's Food Pantry was considered an essential service for their community by the local government and was not shut down when other facilities were. People from the community have stepped up and volunteered their finances and their help to work with this marvelous program which benefits so many in their community!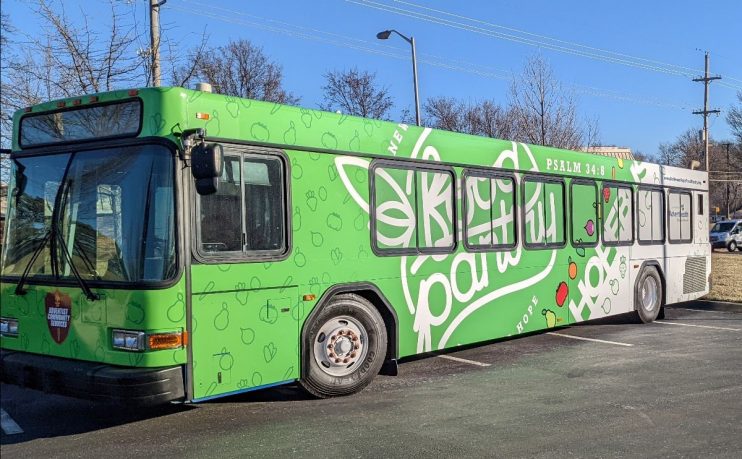 Lincoln New Creation Community Church 
Shelly Johnson leads a once a month ministry for women titled, "Chilled & Filled!" Its purpose is for women to get to know one another and feed their souls as well. They provide a sit-down meal and a devotional speaker once a month at the Lincoln New Creation Community Church.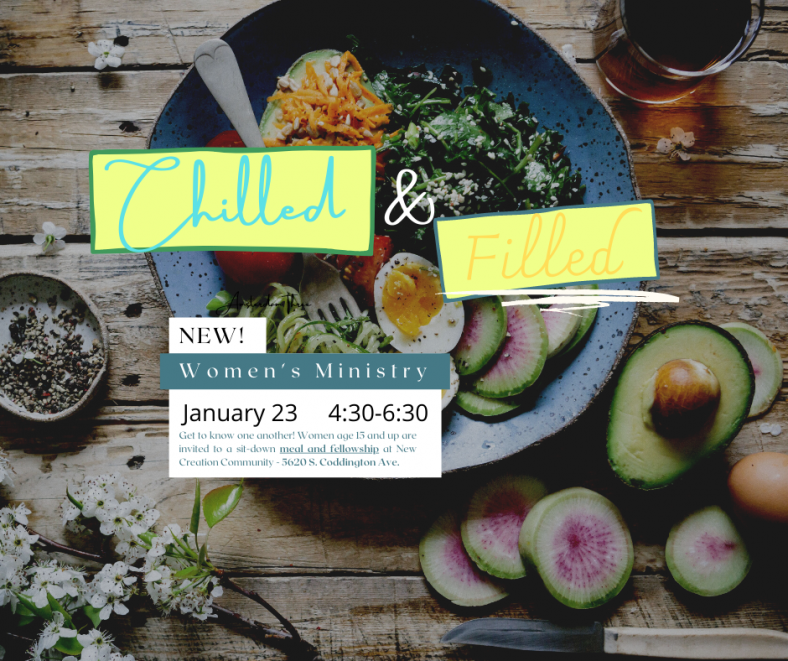 Fairlfield Community Church
"Fairfield Community Food Pantry" began in August of 2016." With Karla Marsh and her husband, Roland leading out. At that time they gave away under 2,000 lbs. of food to 30 families, 84 individuals. The pantry continues each month on the second Tuesday with volunteers from members of the church and community residents as well. They have grown very fast in the last five years. During 2021 they gave away over 77,300 lbs. of food. This includes over 29,000 lbs. of fresh produce. They receive 45-60 boxes weighing 14-20 lbs. every Monday and the volunteers personally deliver them that day. In December of 2021 they served over 4,300 lbs. of food to 74 families, 151 individuals. Currently the number of families/people served per month has more than doubled and the quantity of food given away has more than tripled since 2016. They have received an "Equipment Grant" for a new freezer! Not only will they be able to order more frozen products, but will be able to better handle storing them for anyone who can't make it to the regular monthly pantry. "A big thank you to everyone at the Foodbank and all our volunteers and above all, we give all glory and praise to God!" says Karla.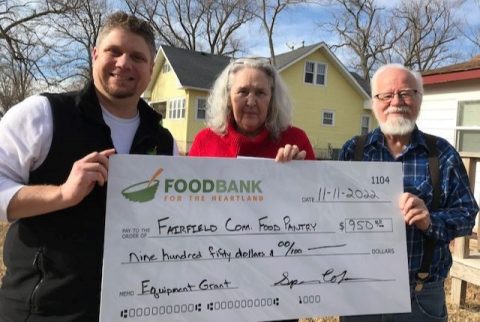 Fort Scott, Kansas  Church
On December 13, volunteer ladies from the community, led by Janet Tucker of the Fort Scott, Kansas Church helped to deliver 80 comforters & bags to four public schools in Fort Scott. During the year these community volunteers sewed these comforters and bags. This is the sixth year that our Fort Scott Church has provided these wonderful Bags of Love homemade comforters and bags then filled to the brim with clothes, toys, books, personal care items & stuffed animals. Janet has led this mission and shares that not only the kids were blessed by this, but each of the volunteer women have been as well.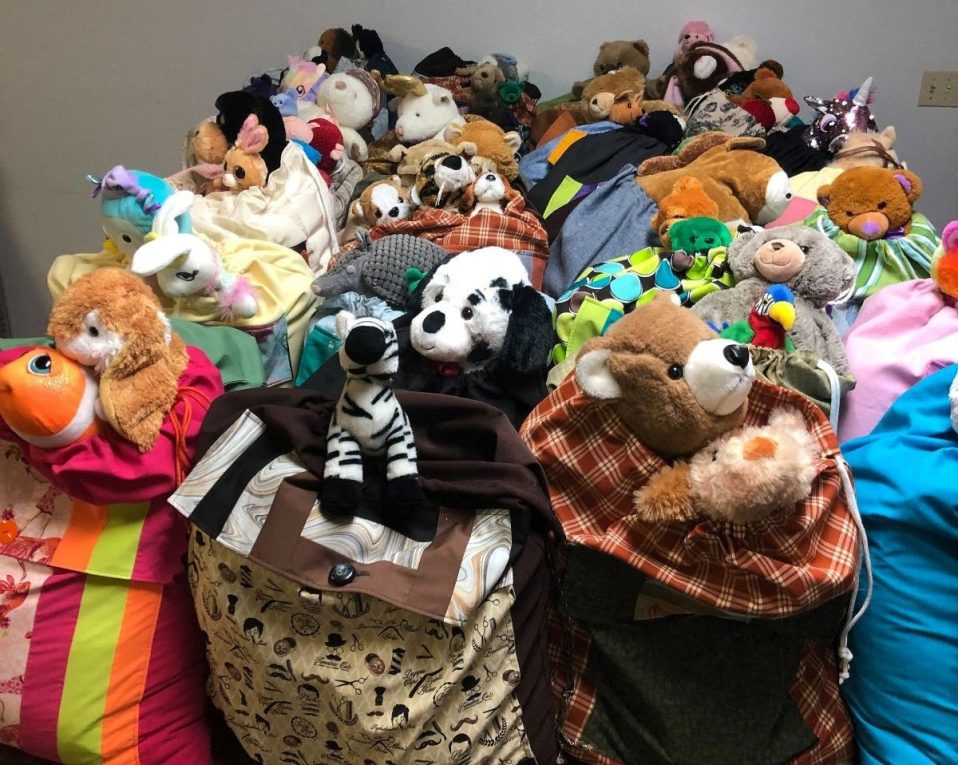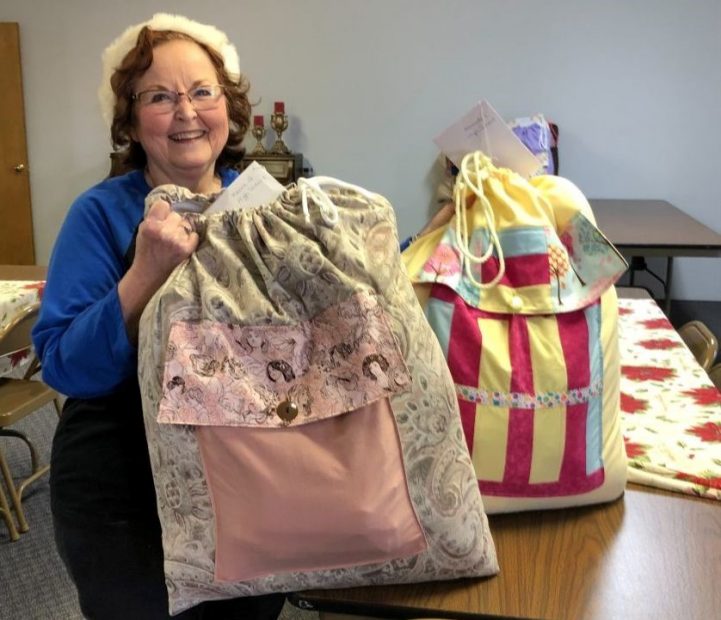 Great Bend, Kansas Church
Lynda du Preez lead in a beautiful Christmas vespers at Great Bend. The program included songs and scriptures. There was a variety of music which included special music from mother/daughter teams as well as others. It was a beautiful way to close the Sabbath hours.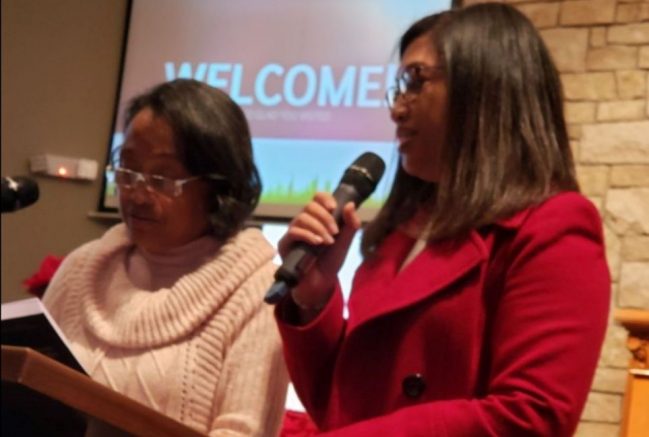 The Great Bend Ladies Ministries chose seven names from the Elder Care needs list. These are elderly shut ins who don't have family to help at Christmas. The ladies collected all the items from the church and delivered them to the Elder Care Office where they were wrapped and given. This was a big task, but it was a real blessing for these people. The group signed cards for 100+ residents. The cards were delivered along with gifts for the staff.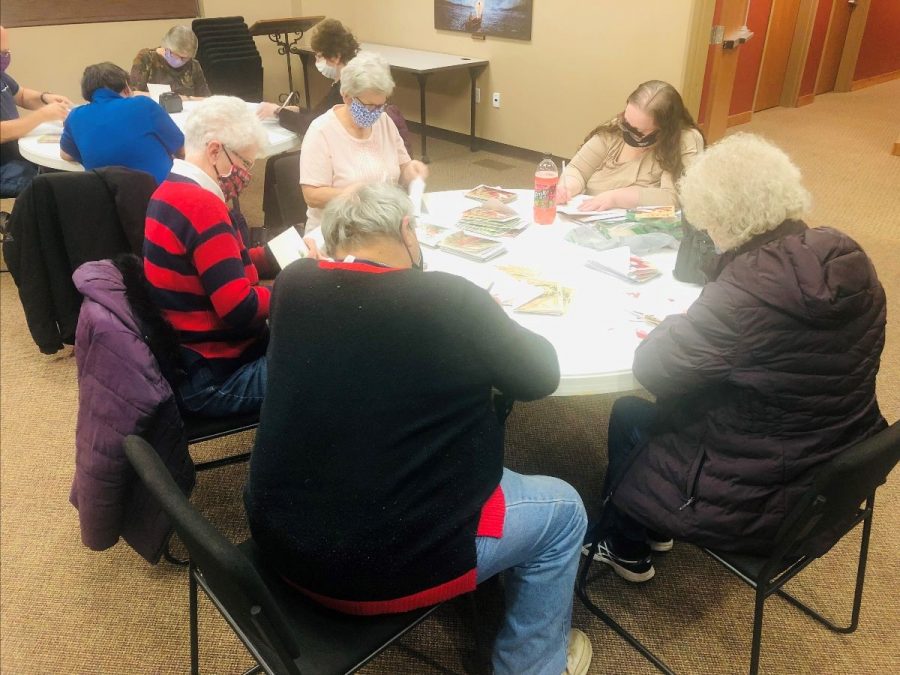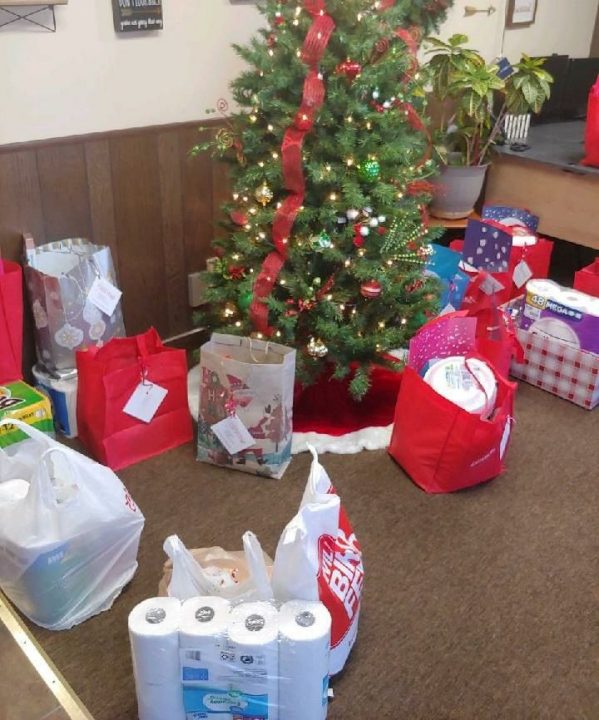 Lincoln Piedmont Park Church
In honor of a member that used to stay at a local skilled nursing care facility, Angela Daniel, a Lincoln Piedmont Park Church member, wanted to do something special to lift the spirits of the resident during the holidays. She organized a holiday card signing get together with some of the members of the Prayer Meeting Group. The group signed cards for all the 100+ residents. The cards were delivered along with gifts for the staff.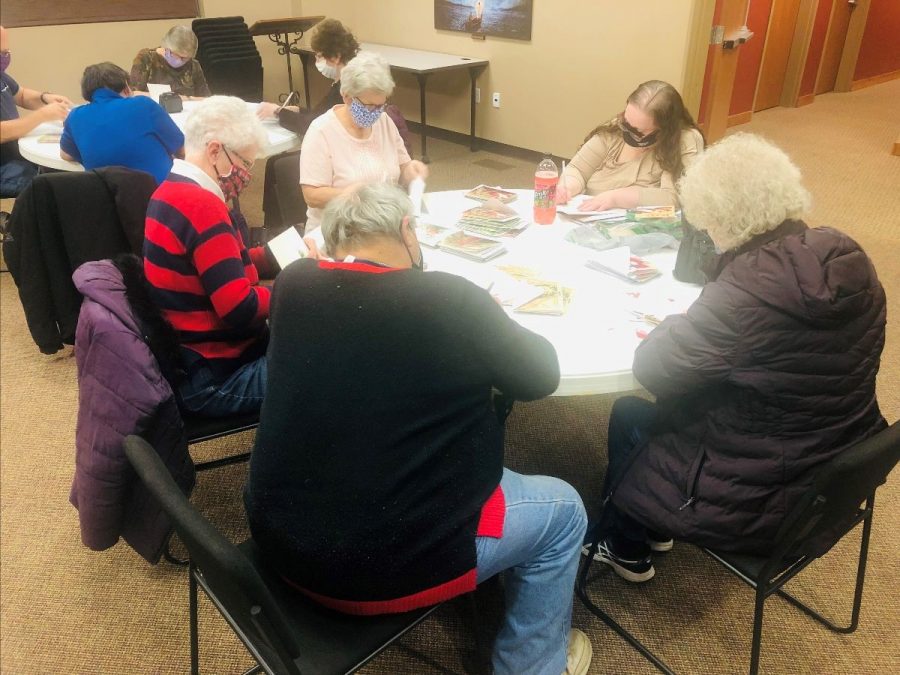 Stitches of Love, one of the small groups at Piedmont Park in Lincoln, just completed its first season," says Shawna Henry (associate pastor). "This group of crafters, led by Kristi Manestar, knits and crochets items for specific care groups. During this pilot season, the group of five to seven crafters created more than 30 sets of winter accessories such as scarves, mittens, hats, and headbands for veterans and their families. They look forward to reuniting in January for season two!" says Pastor Shawna.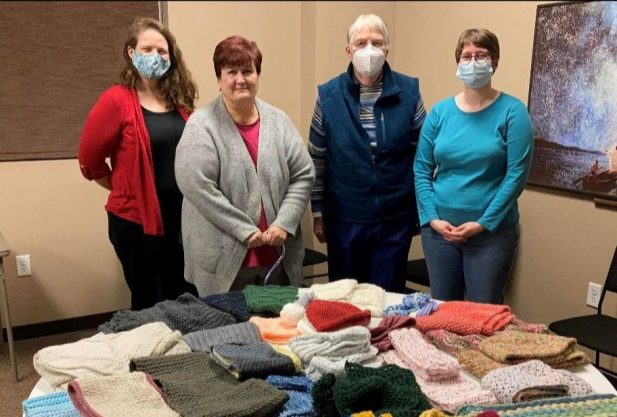 "Over the past couple of months, our Hepler 'First Tuesday' ladies have been preparing Christmas gifts for residents at the West Ridge Assisted Living facility in Girard," shares Judi Pearson. "In November, we stuffed and added some finishing touches to about 30 cuddly teddy bears. At this week's meeting, the bears, adorned with festive candy canes and Christmas gift tags, were ready for delivery. We hope these gifts will help to spread the Christmas spirit this season," says Judi.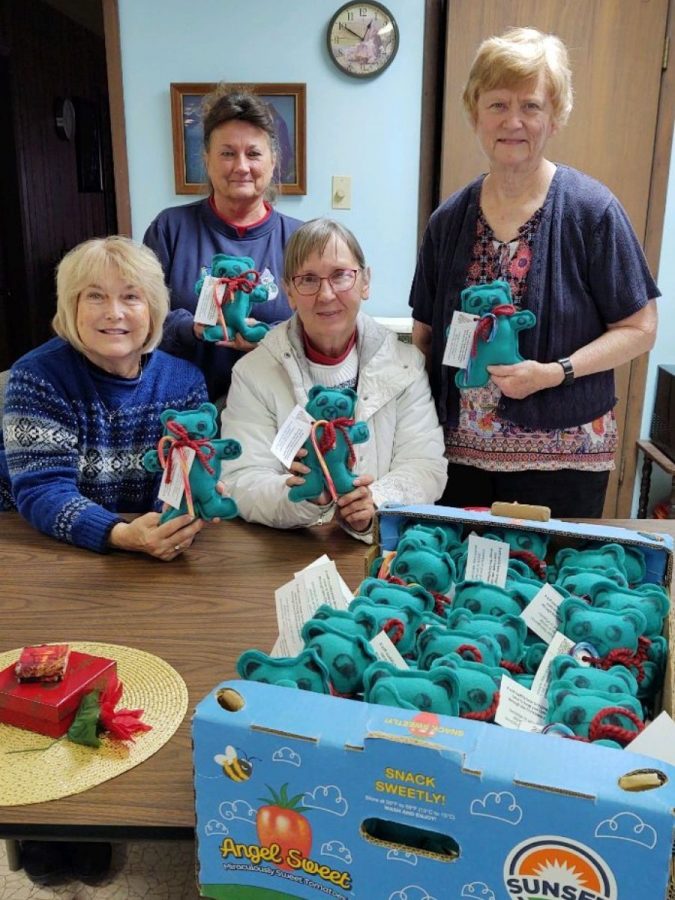 Kansas City Chapel Oaks Church
The Chapel Oaks Mops/MOMSnext group had a wonderful Christmas party last Tuesday," says Reba Lucky. "It was a packed evening, we started with a delicious potato bar. Then each table had the opportunity to showcase their skills at singing a Christmas song using actions and simple instruments. The winners for the most festive, most creative and tackiest sweater were awarded prizes. To facilitate the sock exchange, we gathered in a circle to pass the socks right, then right, then left, etc as indicated in the story that was read. The final activity was the creation of a Christmas ornament. Each mom was given a small gift of Scripture cards entitled Love's Pure Light from the Mentor Moms, it reflects the prayer of the steering committee for everyone of our moms," says Reba.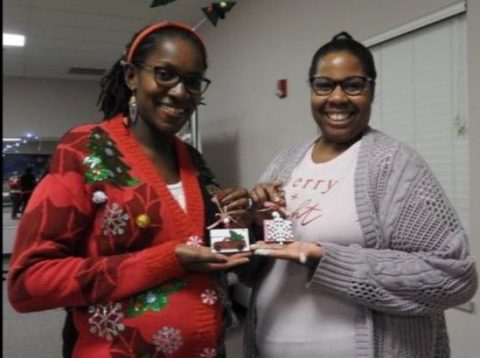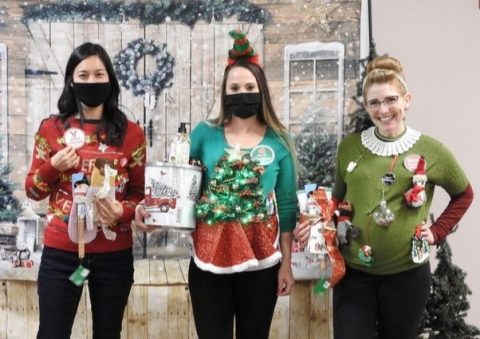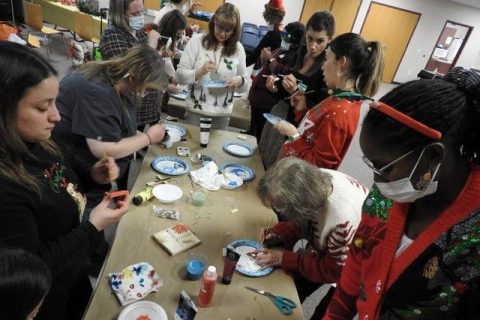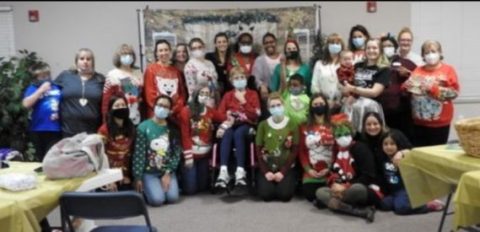 Great Bend, Kansas Church
The Great Bend Church packed food baskets for families for Thanksgiving which included a complete Thanksgiving menu," says Doris Reile-Kneller. "Lynda duPreez designed a very professional book mark to include with a Steps to Christ for each box which gave the church information. This was another project where the entire church aided the Women's Ministries in their November project," says Doris.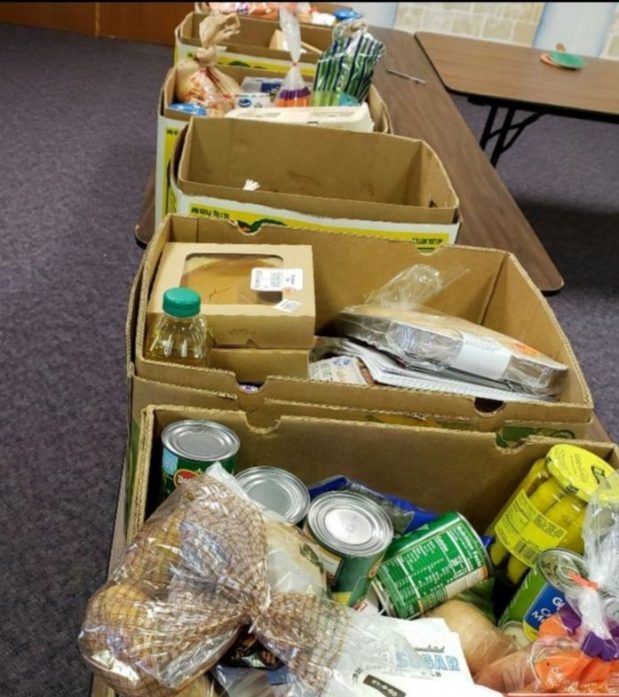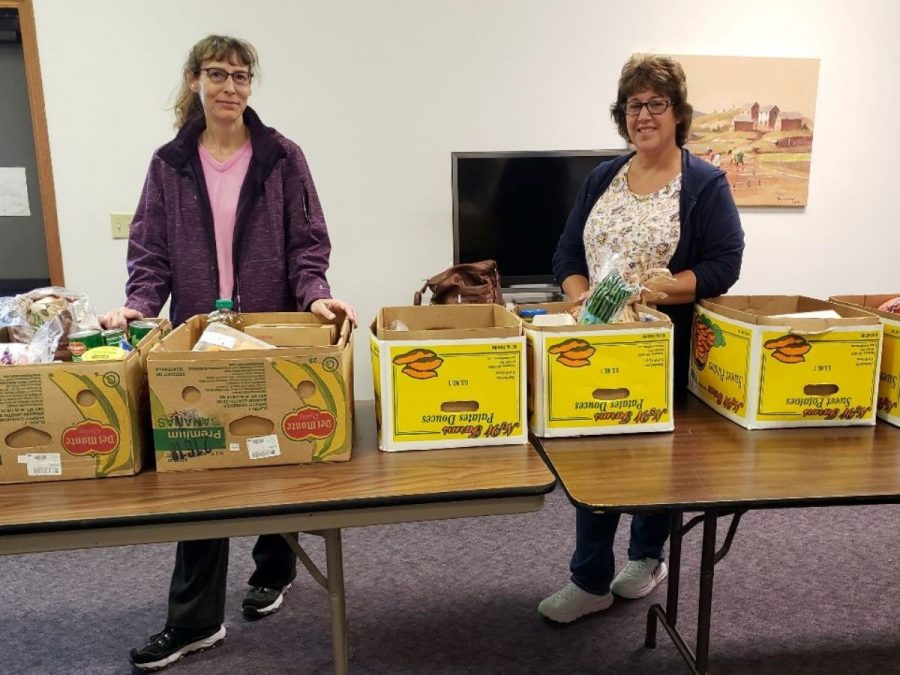 New Haven Church - Overland Park
This past Wednesday was a very exciting day for the ReNewed Hope Food Pantry at the New Haven church--as well as for ACS (Adventist Community Services)--as a walk-in refrigerator, donated by Harvesters, was placed in position," says Francois Erasmus (Kansas ACS Director). "Ron Carlson was in attendance to thank Harvesters, as well as the North America Division ACS (represented by Colette Newer, the Associate Director) for their donations to make this project possible. The total value of the completed project is around $58,000, a large portion of which was donated by the aforementioned organizations. Also in attendance were three members of the Overland Park city council, who helped approve the project. On behalf of the Conference, a big thank you to all our volunteers who help their neighbors in time of need!" says Pastor Francois. Karen Whitson, Food Pantry Director, is pictured second from left.  ReNewed Hope Director, Karen Whitson, sees this as an awesome answer to many prayers.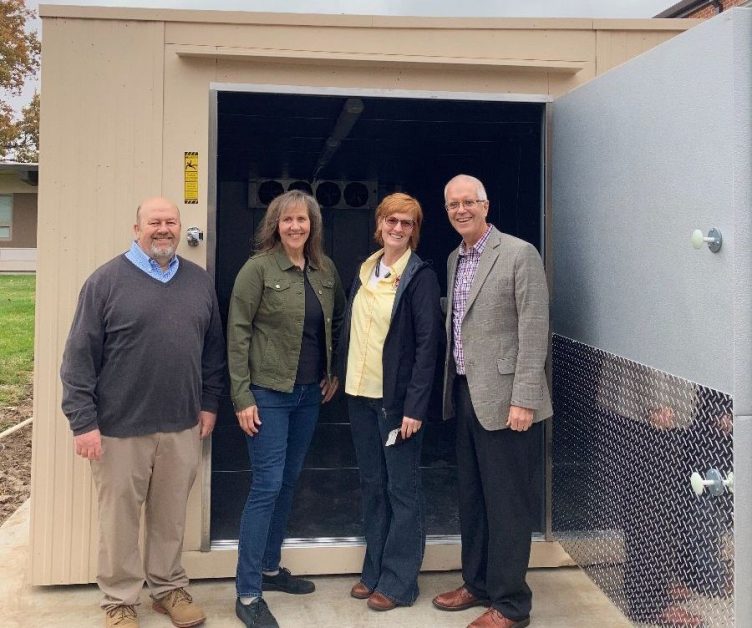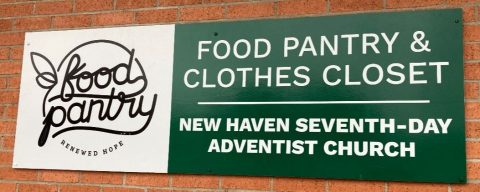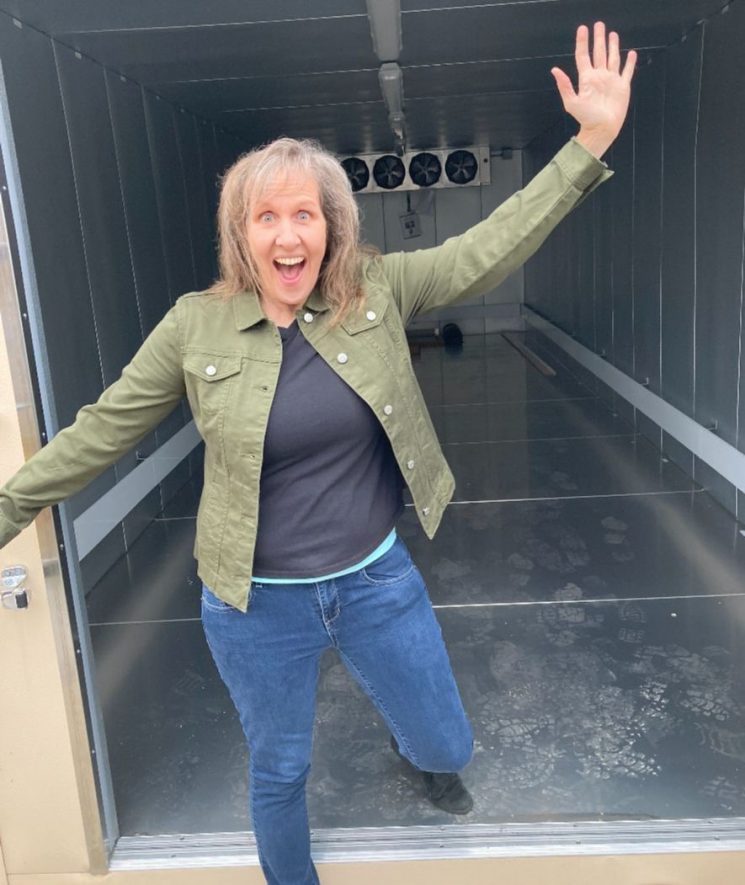 Lincoln Piedmont Park Church
"For over 10 years Piedmont Park has hosted Light Up the Dark as a Christ-centered, family-friendly, free event on October 31," says Hugh Davis. "Typically, Light Up the Dark takes over nearly the entire church building as well as several of the green spaces outside. This year it was held outdoors as a walk=thru. Visitors learned about the parable of the prodigal son. Groups were guided to five different area s to watch a dramatization of the story and at the end they were greeted by Pastor Michael. Treats were handed out at the end of each dramatization. A raffle was also conducted. Nearly 200 people attended. Most of those who attended were from the community and thoroughly loved the presentation. One guest even reached out to Pastor Michael and said their daughter was still talking about the story of the prodigal son. We pray it was a blessing to our community and provided another opportunity to learn of Jesus, the Light of the World," says Hugh. This is event is organized by Jeanette Halfhill each year.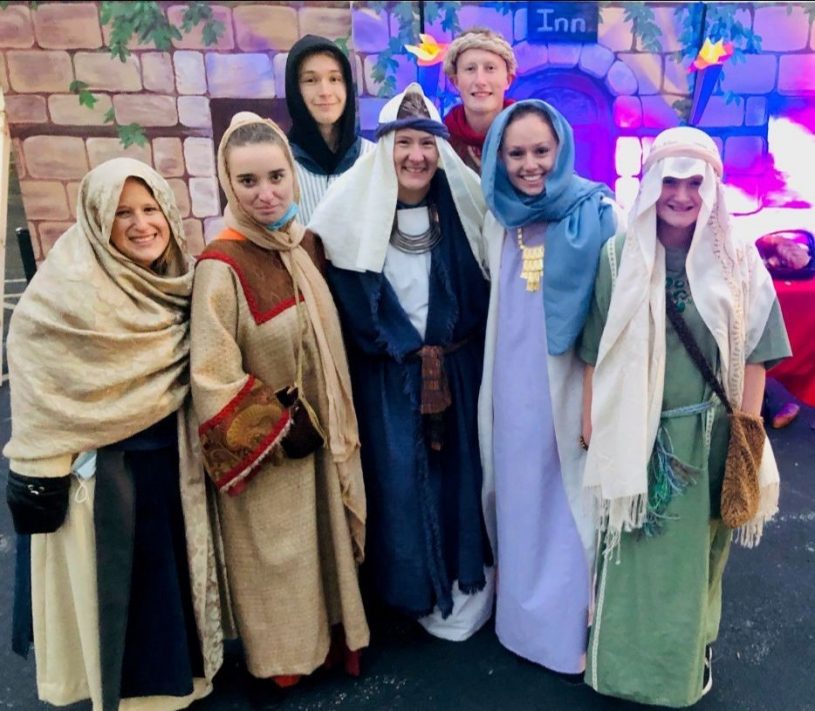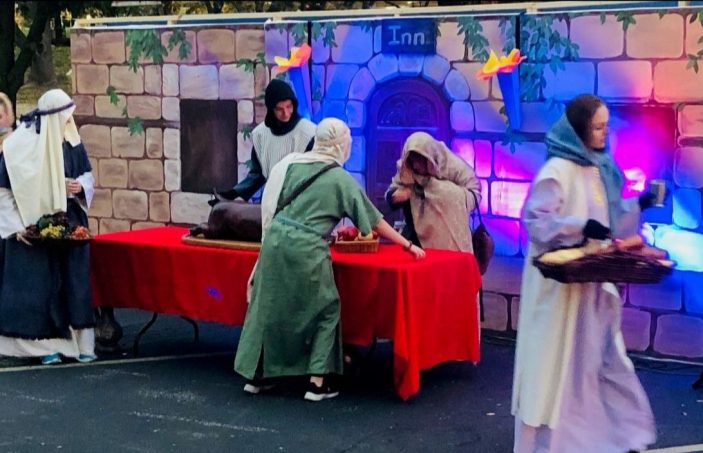 Lincoln Capitol View - Teresa Thompson
"70 year Lincoln Adventist, Teresa Thompson, was recently featured in the local newspaper for the volunteer work she is doing to feed her community with her 'Little Free Pantry' cabinet setup in her front yard," shares Hugh Davis. "Despite her own challenges and financial struggles, she looks at every day as an opportunity to do a little more for someone else, she shares in the article. "I feel like I am the caregiver of the neighborhood," Teresa shares. She and 30 other people around Lincoln are part of a network of people with "Little Free Pantries."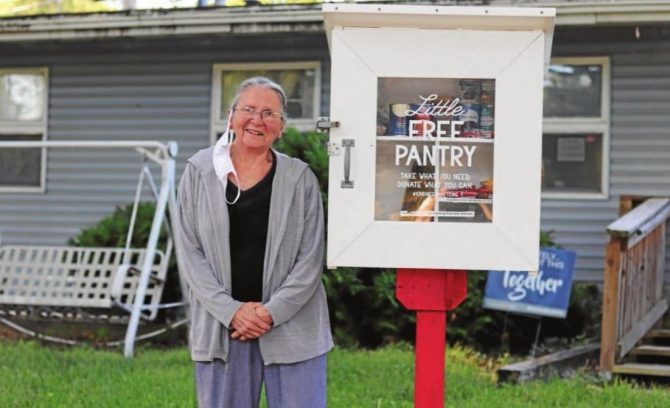 Garden City, Kansas Church 
"Last Sunday afternoon the Garden City Women's Ministry leader (that's me) had quite a surprise when her 24 RSVP'd guests turned into 37 guests all in a matter of minutes, for our Mother/Grandmother and Me Tea Party," says Lindsey Peterson. "I have been praying all year trying to come up with an event that would include the young ladies in our church and God definitely provided. The Tea Party was enjoyed by all, ages 2 through 90. While sipping on delicious cups of tea, families colored and created cute little teacups that they were able to take home with them. It was truly a blessing from God to see the mothers/grandmothers interacting with their (grand)daughters," says Lindsey.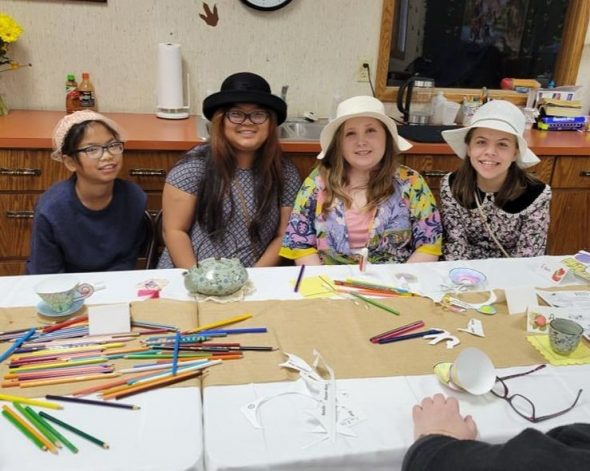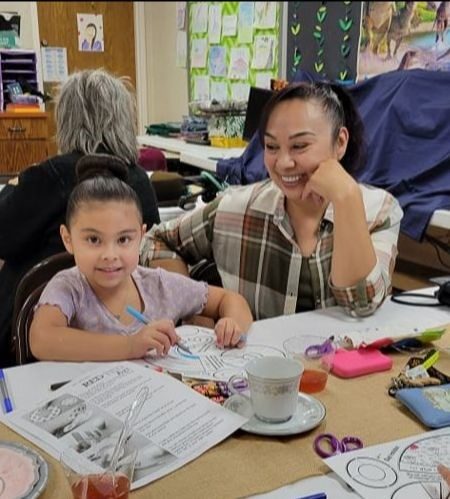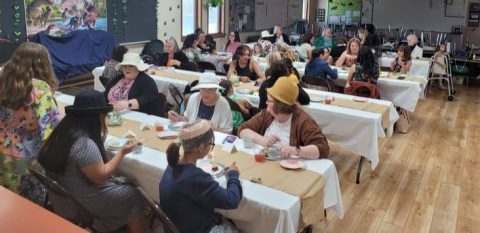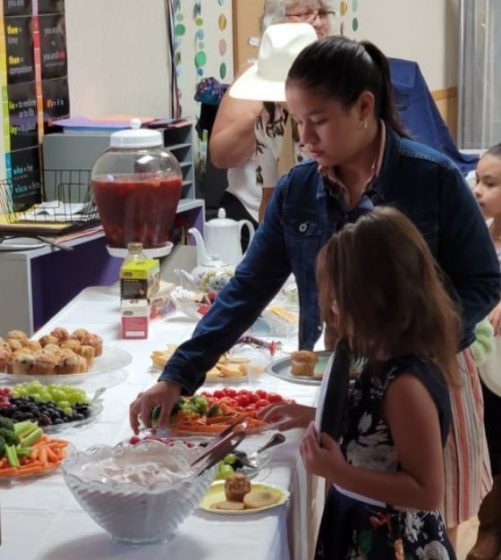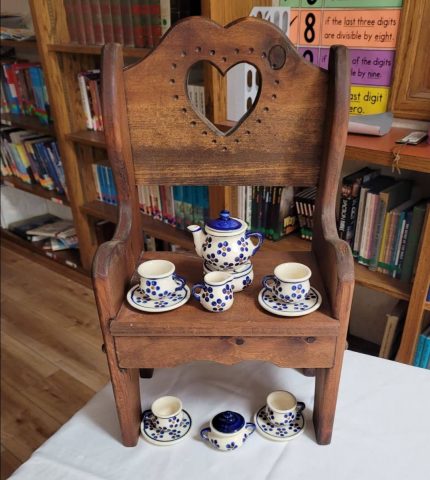 Eureka, Kansas Church
"Two weeks ago I had the privilege of baptizing Patti Bonham into membership of our Eureka congregation!" says Pastor Francois Erasmus. "It was such a pleasure studying with Patti, and since she discovered our message through watching 3ABN, she was already very knowledgeable about what we believe. Pictured in the water with us is Ava Jones, who was instrumental in studying with Patti. At Patti's baptism, a woman of Jewish faith who has attended our church on occasion, indicated a desire for Bible studies. Patti, Ava, and I have begun studying with her, to help her understand who Jesus really is!" says Pastor Francois.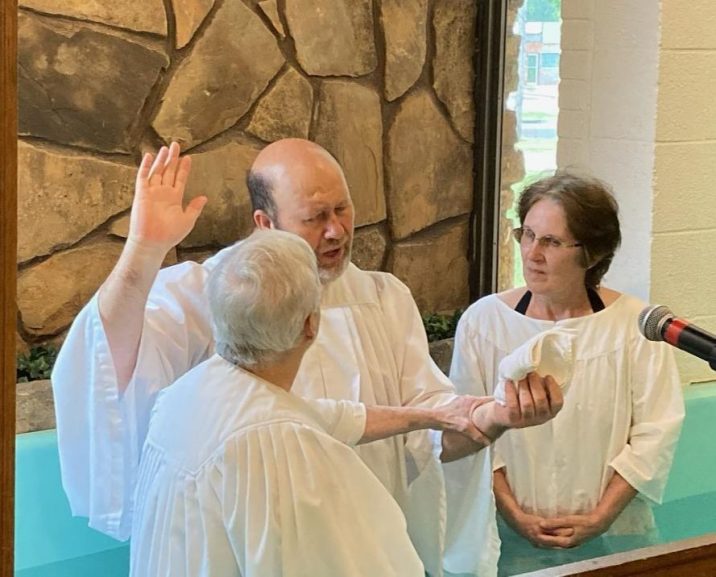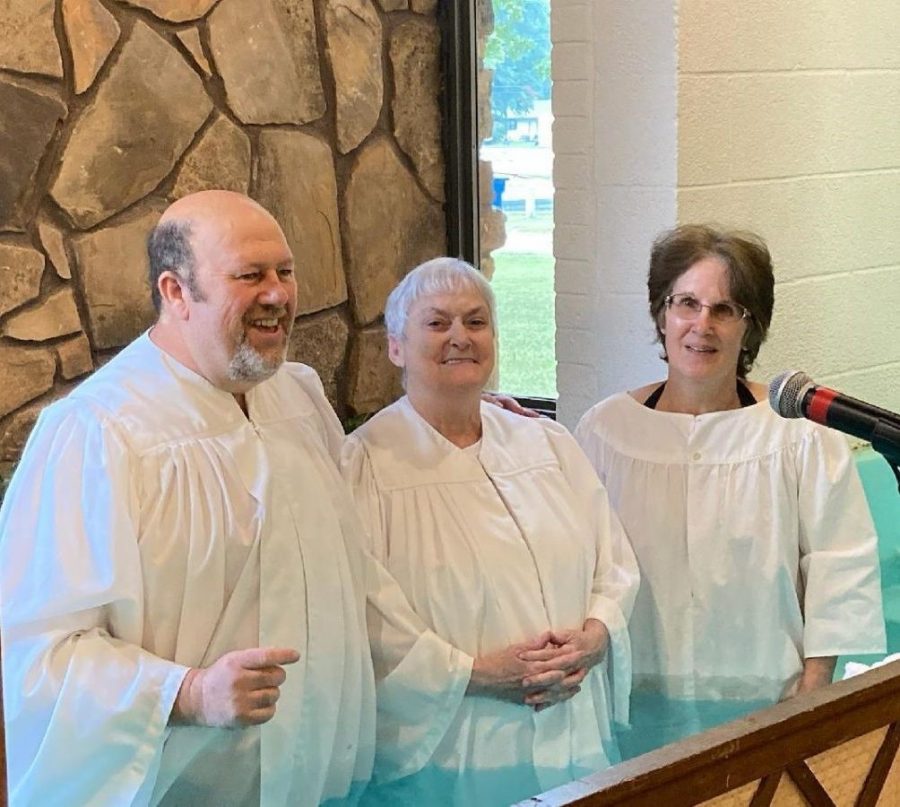 Food, Fun & Fellowship With New Haven Ladies
New Haven has started a social ministry for the women of the church called, "NH Women's Brunch," says Karen Furst. "Our first brunch was at Ya Ya's Euro Bistro in Overland Park, KS and we had 27 women attend! The brunch began with a short worship and prayer to set the mood. Then it was on to eating and visiting with one another, welcoming young and old, renewing old friendships and forging new ones. We plan on having the brunches for our ladies on the 3rd Sunday of each month with a different location around the Kansas City area, just to keep things spicy. Women getting together for good food and great company has hit the spot at New Haven," says Karen.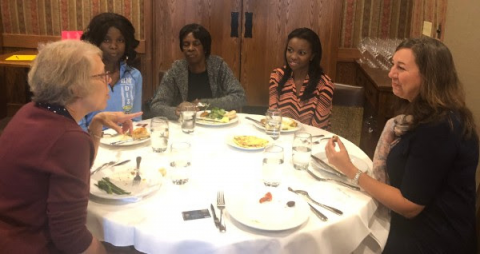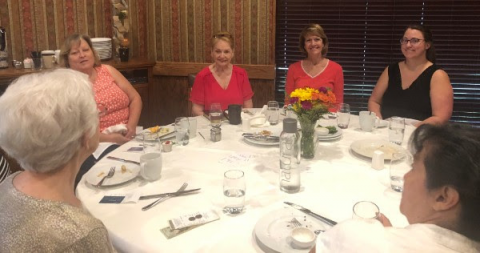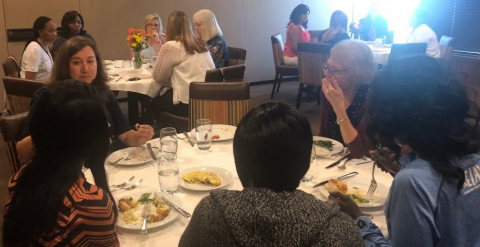 ---
Fort Scott Church serving their community with "Bags of Love" program
It's My Very Own "Bags of Love". When children are removed from their home under circumstances out of their control, they often don't get to take any of their own belongings. So comforters & bags are sewn with loving hands & caring hearts to give to each child from Newborn to 18 years of age. Depending on the age & gender of the child the bags are filled with appropriate body & hair care items, new toy, clothes, pj's, books, & a stuffed animal. The comforter is to comfort them (wrapped in love), bag is to be their suitcase, & stuffed animal is so they can hold it, talk to it, & it never tells any tales," says Janet Tucker, Fort Scott SDA Church.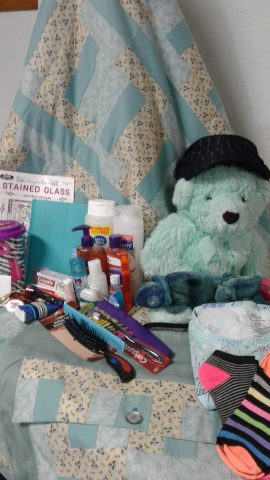 ---
Wichita West Hispanic Church serving their community with God in Shoes program
Sunday, August 12, 2018, the Wichita West Hispanic Church had a God in Shoes community outreach," says Damaris Ortega. "People were very happy and said that they had never experienced such a wonderful program and some of them were very thankful and want to give donations to women's ministries so we can continue doing it. All of them visited the prayer station and we gave Bibles away and they were very interested in the programs of the church. They said, please invite us to your meetings. Lots of great testimonies. We are very Happy and blessed. Everything was great. We are planning another program in May," says Damaris.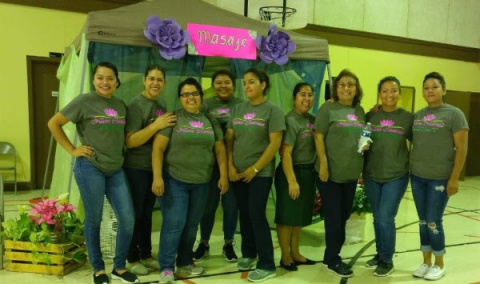 ---
Chapel Oaks supporting moms / reaching community through MOPS/MOMSnext programs
"The Chapel Oaks MOPS/MOMSnext group has finished another successful year," says Reba Lucky. "MOPS is Mothers of Preschoolers and MOMSnext is for mothers of school aged children and is a program to support mothers in the vital job of raising their precious children. Esther Shaw, our coordinator, recently reported that 62 moms have attended our meetings. 25 of these moms are community members who found our group online or were invited by a friend who attends. We start the evening with a delicious dinner, followed by a program and often a craft. Support comes in the form of friendship, providing meals following the birth of a baby, and socialization outside the meetings. Our theme this year was "Free Indeed" based on Luke 4:18-19. A highlight of the year is our Spa-La-La night when the Mentor Moms pamper our ladies with a delightful spa experience. There will be activities during the summer because the moms do not want to wait until September to get together again!!" says Reba.