Pathfinder Games & Events
While not originally an official manual of the Pathfinder Ministry, This manual is now available for purchase was originally called Pathfinder Field Activities.
This in the original version written by Norm Middag in the early 1980's. It we written for new Conference Youth Directors but not widely circulated. Terry Dodge was among a handful of Youth Directors that provided their own activities and information gleaned from years of knowledge. This is an invaluable resource for Pathfinder event planning.
You can purchase the newer and more relevant version for $10.95 by following this link: https://www.adventsource.org/as30/store-productDetails.aspx?id=36544
---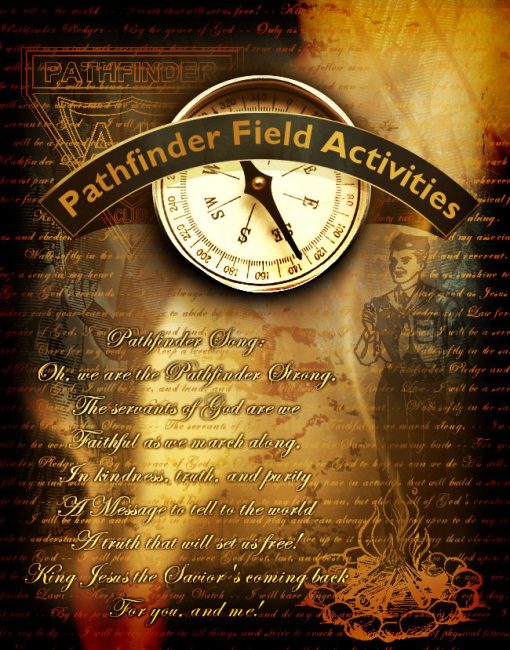 In 2010 the Kansas-Nebraska Conference provided a copy of this old manual to AdventSource. It was redeveloped into what is now titled Pathfinder Games and Events.
Here is that copy of the original 1980's version with the additional pages, notes, and activities added by other past KS-NE Youth Directors and Area Coordinators.
Cover
Table of Contents and Forward - pages 1-2
Camporee Planning - pages 3-37
Fair Planning - pages 38-85
Guidelines for Games - pages 86-87
Skill Games - page 88-99
Snow Games - page 100
Music Games - page 101
General games - pages 102-108
Relays - pages 109-112
Nature game - page 113
Relays - pages 114-117
Skill Games - pages 118-119
Bicycle Games - pages 120-122
Stilt Relay - page 123
Outdoor Games - pages 124-129
Bible Games - pages 130-149
Nature games - pages 150-157
Physical fitness - pages 158-177
First Aid - pages 178-183
Knot Games - pages 184-193
Drill Events - pages 194-198
Sewing Buttons Relay - page 199
Compass Events - page 200-207
Relays - page 208-212
Misc. Track and Trail - page 213
Relays - page 214-217
Lashings - page 218-234
Signaling - page 235-240
Relays - page 241-243
Fire and Wood Events - page 244-248
Skill Games - page 249
Kites - page 250-252
Index - page 253-260